My parents got married on 9th November 1963 and my brother-in-law was born on 11th November 1963. It means that, despite BIL saying that he's younger than he is, we always can remember how old he is LOL What it also means is that I have 2 family cards to make so here they are.
First up is mum and dad's anniversary card. I used all Stampin' Up goodies on it. The stamps are one of my new sets and they're gorgeous.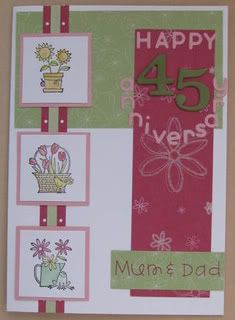 Next is BIL's card and he likes a pint so this Stamps Away stamp was perfect. The papers are Doodlebug.